ACTIVITIES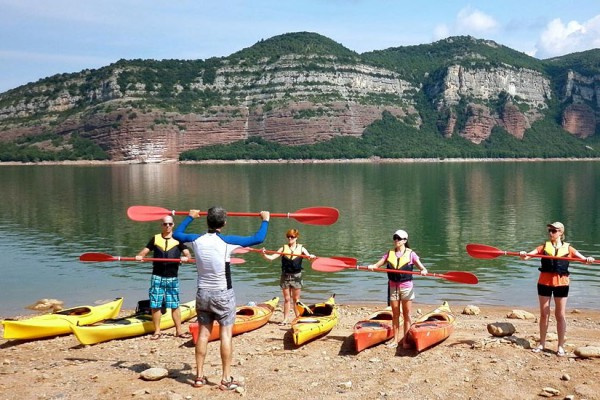 ACTIVITATS ACTUÀTIQUES AL PANTÀ DE SAU
Offers a wide range of water activities for all levels and tastes in the Sau , you can kayak , AquaSlider , water skiing, wakesurf.
More

information
AQUATERRACLUB
It is the sports and group activities Sotacingles. Sau Kayaking, Segway , archery area , Slackline , Nordic walking or hiking are our fields of action, in an incomparable environment as Sau Valley
KAYAK SAU proporcionan emociones y experiencias únicas en kayak por todos y con la máxima seguridad en el entorno privilegiado de Sau.
MOSENTPARK ofrece alquiler de kayaks y clases de wakeboard , wakeskate , wakesurf y WATERski .
ANIGAMI, ANIGAMI, ADVENTURE SPORTS 
The Anigami Leisure Centre in the village of l'Esquirol offers
individuals, families and groups a range of different activities to enjoy nature and spend a day in the woods. In the farmhouse, you will find green spaces to play, free information office Collsacabra, terrace bar where you make a vermouth and a grill with affordable meals.
More

info
This year they have grown to offer more than 15 activities in the center that can perform throughout the day with a half-day ski pass or a Forfait a day that entitles you to perform all activities:
Air circuit between the trees, Geocaching circuit 10 treasures, 2 circuits guidance on child / adult forest, circuit zip lines, archery circuit
3D animals, field archery with moving targets, playground, farm animals, playground of the world, chiquipark.
Since the Centre also out numerous adventure activities in the area of Collsacabra as 4×4 routes, adventure sports, hiking, etc … Here you will also find the famous Gymkhana activity Humor Amarillo.

Adventure park opening: Weekends from 10h to 19h (from March 15 to October 15)
Information and reservations:
www.anigami.cat | www.anigamiparc.cat
Mas Les Comes, L'Esquirol
93 744 72 95 | info@anigami.cat
RUPIT, A TOWN OF STORY
"Rupit, a village story" is the first experiential tale world! Allows to enter through a tunnel of time in the small town of Rupit to reach the seventeenth century, while the bandit Serrallonga, witches, kings, knights and evil mayors.
More

info
Live based on the town's history and its legends and children will be the protagonists with the help of supplements costumes and the sound of the piccolo and drum story. A fascinating tale of history, legend and fantasy where the pages are the streets themselves Rupit.
Activity recommended for families with children up to 12 years.
Information and reservations:
www.rupitviu.com
Rupit Tourist Office
685 834 663 | info@rupitviu.com